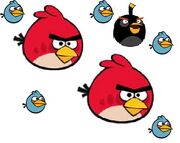 When fired it has random birds orbiting around it ( although it cant be much larger than itself) it usually has 4-5 red birds orbiting around it , it looks like a very large basic red bird and if it has another orbital bird orbiting it that orbital bird will have birds orbiting it and those 2 birds will orbit eachother in a binary fashon it can be highly destructive depending on what birds orbit it and how many birds are orbiting it sometimes you may get 1 red bird orbiting it and thats it other times you may get 3 orbital birds and a massive amount of birds orbiting that (although getting a orbital bird orbiting another orbital bird is highly unlikely) and if a bird has a ability e.g the yellow bird you can use that and it will leave the orbit, this is a highly rare bird. It is very strong.
Ad blocker interference detected!
Wikia is a free-to-use site that makes money from advertising. We have a modified experience for viewers using ad blockers

Wikia is not accessible if you've made further modifications. Remove the custom ad blocker rule(s) and the page will load as expected.